Metal roofs are one of the top options for homeowners in Appleton, Wisconsin looking to update their roofing material. Metal roofing is one of the best options for durability and longevity. They can withstand some of the worst weather conditions, but are also lightweight, making for an easy installation. They are also sustainable, providing the peace of mind that the materials will be recycled at the end of their life instead of sitting in a landfill.
The first big step of your home improvement project was choosing the roofing material you want to use. Once you've selected metal roofing as your top choice, you may be wondering what the next steps are. When it comes to getting ready for your metal roof installation, there are a few factors you'll want to consider such as finding a great contractor, clearing your space, protecting your plants, and preparing the neighborhood.
Find Your Perfect Contractor
Who you work with will make a huge impact on your overall satisfaction with the new installation process. You want to work with a contractor that you can trust and communicate with. Communication is key to helping any project run smoothly. If you haven't selected a contractor yet, it is important to do your research first.
Take the time to look at different company websites. This gives you a feel for who they are, what they can do, and examples of completed projects. You'll also want to take the time to interview your different options. This can be as simple as a phone call where you can ask some initial questions. Once you have your list of top potential contractors, ask for an assessment.
Get an Assessment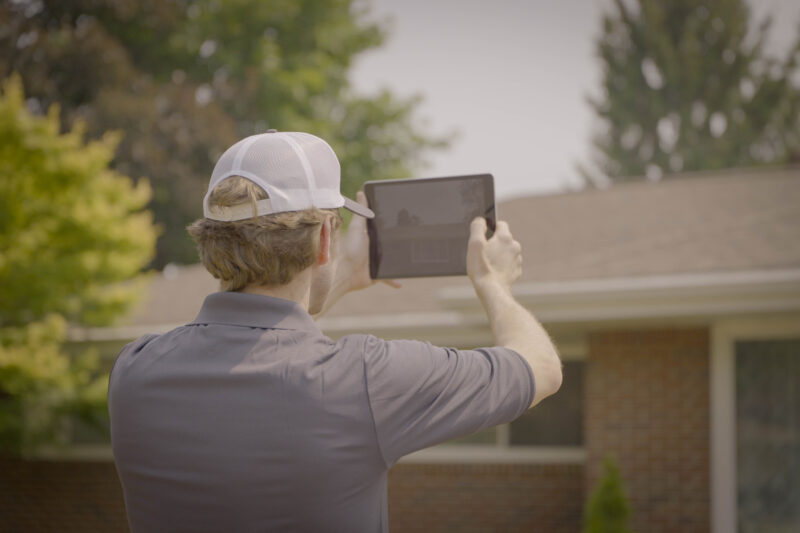 An assessment is a great opportunity to get to know your Appleton contractor, as well as start discussing price. An on-site inspection with a quality contractor should include discussions on all the important aspects of your project. Contractors should look for:
Roof planes
Roof access
Flashing zones
Gutters
Penetration points
Perimeters
Final measurements
Any problem areas
The different inspection points help a contractor better understand the cost of your project, as well as how the job could be best be done. This also gives you a chance to work one-on-one to get to know one another and ensure you can communicate effectively. You'll also be able to discuss the finer details such as your color options, what panels you'd like, metal choice, and accessories. You'll also be able to discuss further maintenance as well as warranties.
Your contractor is your go-to when it comes to the entirety of your project. Most reputable companies will provide you with one point of contact to ensure that no questions go unanswered and that all of your expectations are met. Before installation begins, you'll have accepted the best bid for your needs, as well as established the start date, the time frame, upfront costs, payment plans, and communication methods. You can also ask your contractor what specific preparation work they feel you could do to keep the project moving along. Every situation and home is unique and your contractor will know what the best options are for your specific location.
Preparation Work
You've selected your material, you've selected your contractor, and now all you have to do is prepare your home before the official start date of the project. Preparing the exterior of your home, as well as preparing the people in your home and surrounding area can help the overall flow of the entire project. You will want to coordinate with your contractor as much as possible since you both will have work to do to ensure the success of the project.
Contractor Prep Work
Your contractor wants your project to run just as smoothly as you want it to. Together you've discussed your cost, time frame, materials, and all the small details that need to be determined before a project can officially begin. Before installation begins, your contractor will already drop off necessary materials, schedule a dumpster or recycling bin if any material is being removed, and made plans for any bad weather or other delays that could impact your time window.
Homeowner's Prep Work
As an Appleton homeowner, there is some prep work you can do to help smooth the metal roof installation process. You can make sure that sidewalks are clear. You can also clear your own driveway of any vehicles or bikes. It helps to discuss with your contractor what areas they would need for the project. This helps you know what items could be in the way, and what items should be moved. You'll likely need to remove items from your yard, as well as protect any patios, decks, or balconies. This includes plants, sculptures, chimes, birdbaths, outdoor furniture, and equipment. Any type of construction can kick up dust, dirt, and other pollutants.
In addition to removing items from your yard, you'll also want to consider any plant life that you have. If you have shrubs, plants, flowers, or a garden, you'll want to protect them. One of the easiest ways is by using a tarp. If you don't have any yourself, many contracting companies can loan you use of theirs.
Preparing Others
Preparing your home is one big important step in the metal roofing installation process. It is also beneficial to have a plan in place for yourself, your children, pets, and neighbors. Construction projects can be loud and they often start early in the day. You'll also have a lot of people moving around your home, in addition to materials and equipment.
You may want to give your immediate neighbors a heads up that you'll be getting work done, out of courtesy. You may want to discuss it with your children as well. This helps to establish boundaries where they shouldn't go for safety concerns. You'll also want to make plans for your pets who may not like the noise and may still need a safe place to go outside.
Your contractor can help provide you specifics that involve work start time and end time, clear location boundaries, and any gates or doors that need to remain shut, or that they may need access to.