For their vast benefits and long lifespans, metal roofs continue to grow in popularity. If you've decided to install a metal roof on your Tennessee home, it's important to understand the process from beginning to end. There are several frequently asked questions and topics to be made aware of before you begin the project so that the installation runs smoothly for everyone.
How do I find the right metal roofing company?
You must weigh your options when picking a contractor, just as you do when choosing the materials for your new roof. There are likely several companies in your area with workers trained to install metal roofing, and at first glance, they may seem similar. When you contact each company, they'll need to see the property before they can give you an accurate estimate of costs, installation time, and types of metal roofing available to you. A good contractor will come to your home and inspect aspects of your home, including:
Gutters
Roof access
Uneven areas
Low or sagging spots
Potential problem areas
A good roofing company will be honest with you about any potential issues and be thorough in their examination. Before an estimate can be made, the contractor will take measurements of your roof and discuss panel and material choices, as well as colors and finishes, to make sure that the new roof fits with your home's design aesthetic. After all is discussed and questions are answered, the contractor should be able to give you a general budget for your new roof project. If you go through this process with several contractors in the area, you'll be able to weigh ratings and labor price estimates before you decide which is right for you.
How will my contractor prepare for my metal roof installation?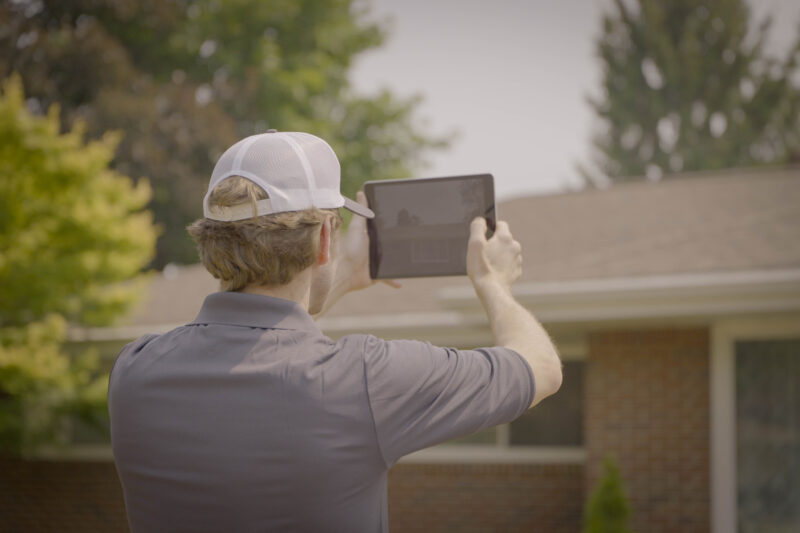 There are a few arrangements that need to be made between you and your roofing company. These include:
Time and date of installation
Contingency plan in case the appointment day has bad weather
Drop off of materials
Delivery of a dumpster or recycling bin for old roof materials
Discussion of access points for the crew on the day of the job
Your chosen company will be well versed in these tasks and will likely go through them with you clearly in the weeks leading up to your appointment.
How should I prepare for my metal roof installation?
There are several tasks that you need to complete before your metal roof can be safely installed. Your Nashville contractor may or may not explicitly ask for these things, but doing them keeps your belongings and the crew as safe as possible. Your tasks include:
Clearing the yard, driveway, and walkways of all toys, bikes, cars, birdbaths, etc.
Removing any hanging plants or wind chimes attached to the gutters or roof
Covering or moving porch plants to protect them from falling objects or debris
Clearing an area for the contractor's workspace
Talking to neighbors about your project and the noise it may cause
Creating a plan for pets who need to be let outside
Talking to your children about what to expect and boundaries surrounding where they can go during construction
Do I need to be present during my metal roof installation?
It's generally recommended that the project's main contact person be at home while the work is being done. If your children are home during the day, be sure they are adequately warned about the noise and activity. Many people choose to have their children stay with a friend or family member while the work is happening to lower stress levels for all involved.
What should I expect during my metal roof installation?
On the day of the project, it's safe to expect a typical construction site's noise and commotion. There will likely be several workers on site, and the house may shake at times from the installation. There is bound to be dust, which can get inside the home if you have windows or doors open. If the team is removing the existing roofing on the same day, there will be falling objects. Be sure to communicate with your contractor about where it is safe to exit your home if you need to go outside.
What is expected of me during my metal roof installation?
Your contractor should be clear about what the workers need when it comes to you and your space. If they need a work area or parking space cleared, they will have to let you know where and how large it needs to be. If an outdoor outlet is required, they will let you know ahead of time as well. The crew does not expect to enter your Nashville home unless it was previously determined with your contractor, and there is no obligation to let them use your facilities. The crew also provides its own food and water, so you do not need to provide anything for the workers. During installation, your only job is to be in the home as the point of contact, in case any issues come up that need your approval.
What happens after my metal roof installation?
After the installation is complete, the contractor and crew should clean up after themselves. This includes using a metal detector to pick up any shards or nails that were dropped, putting back anything that the team moved while working, and removing all tools and equipment. They will also arrange for the dumpster to be removed, but this may take up to a week. Forty-eight hours or more after completion, you should have a walkthrough with your contractor to discuss how the process went and any concerns you have about your new roof. Take the interim period to walk the house's perimeter and look for visible scratches or shoddy handiwork.
Replacing your home's roof is an involved process, but installing a metal roof is a wise long-term investment. These roofs add value to your home and give your home curbside appeal as well. The right contractor will make the process smooth and easy and give you total peace of mind every step of the way.