You may already know that a residential metal roof will last longer than a traditional shingle roof. According to the Metal Roofing Alliance's 2022 Residential Metal Roofing Buyer's Guide, the average lifespan of residential metal roofs is 50 or more years, while asphalt roofing has an average lifespan of 12-20 years.
If you've lived in your home for a long time, however—or if you purchased a home with an older standing seam metal roof—there may come a time when you need to consider replacing it. The decision can be a difficult one.
Do you really need to replace it now? What are the factors to consider before replacing your metal roof? Are there other steps you can take instead to preserve the roof you have? And if you decide to replace it, what do you need to know before taking that step?
We examine these issues in this post to help you make an informed decision.
In this article:
Signs You May Need to Replace Your Metal Roof
When you notice any of the following on your standing seam roof, you should determine if you can repair the issues or if a replacement may be necessary. Remember, you can always take advantage of a free inspection from Erie Home. Our professionals will identify the exact damage and provide the pros and cons of repair versus replacement.
1. Extensive Rusting
Rust is dangerous because it is corrosive and can compromise the integrity of your roof, yet it's a common occurrence with standing seam metal roofs. If you see only a few rust spots, these can be treated. But if your roof has a large area of rusting or shows widespread rusting, that's often a sign that it needs to be replaced.
In contrast, Erie Home metal roofs are made of stone-coated metal shingles with a zinc-alloy coating, creating a coated steel surface that offers exceptional durability and is less prone to issues such as rust and corrosion. 
2. Leaks
If you notice leaks inside your home, take action immediately, as these can indicate serious damage to your roof. It may be possible to repair the leaks, but if the repairs don't work, or if you're looking at a hefty repair bill, a replacement might be the smarter way to go.
3. Loose or Missing Panels
Any area of your home that is exposed to the elements is at risk. You can always repair a few loose or missing panels on a standing seam metal roof, but if several panels are affected, it may be time to consider a roof replacement.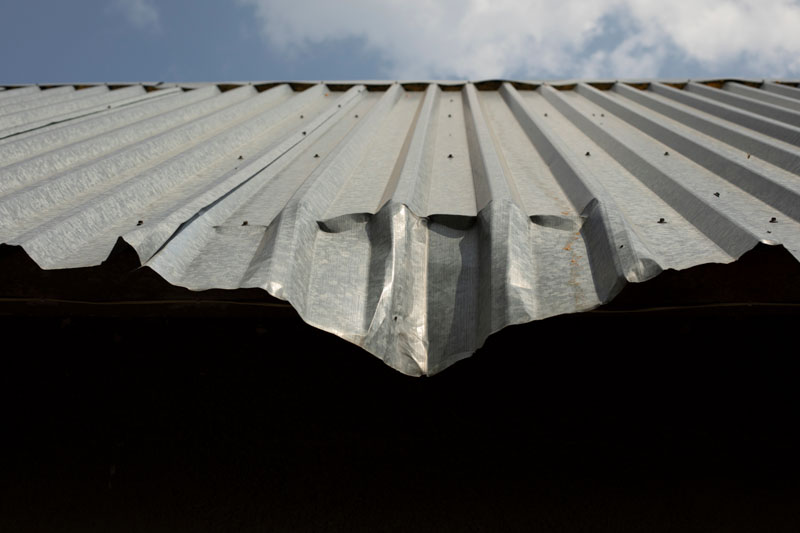 4. Changes To Your Utility Bill
Metal roofs help to increase the energy efficiency of your home; they insulate well and can keep your home cooler in the summertime. However, if there is a sudden temperature change inside, or if your utility bill suddenly goes up (and there wasn't a price increase), check your roof. It could be that it needs to be replaced.
If your metal roof was installed by Erie Home, it's backed by our transferable 50-year limited warranty, so check your warranty terms and conditions to determine if damages to your metal roof might be covered. Our warranty guarantees your metal roof against manufacturing or installation defects such as discoloration, rust, high winds, and hail.
Factors to Consider Before Replacing Your Metal Roof
1. Age
The first thing you'll want to consider is the age of your metal roof, as this will help you decide if it's time for a replacement. You should be able to find this information either in your records or by calling the installer.
If you purchased the home with the roof already installed, take these steps to find out how old your roof is:
Ask the previous owner if they are available
Track down the building permit with the county government
Request a copy of the receipt from the roof replacement company from the previous owner or the roofing company
Get your roof professionally inspected by Erie Home—our experienced professional inspectors can estimate the age
The age of your metal roof will give you a general idea of the typical wear and tear you should expect to see.
2. Material
Before replacing the roof, ask yourself if you want to use the same metal material again or if you want to try something different. There is a wider variety of metal roofs to choose from today than there were just a few years ago. You have more options when it comes to materials, colors, styles, and more.
At Erie Home, we provide unique, ultra-durable, steel-panel, stamped metal roofing with all the benefits of a metal roof but the classic look and distinctive style of traditional roofing.
3. Weather and Climate
Metal roofs withstand harsh weather much better than traditional asphalt roofs, but that doesn't mean they're totally impervious to strong winds, ice and snow, hail, and other stormy conditions.
If you live in an area with extreme temperatures, high humidity, and frequent storms, ask about the metal roof materials that would best withstand these elements. Erie Home metal roofs are ultra-durable; besides being built to withstand winds of up to 120 mph, our roofs also have Class 4 hail resistance and a Class A fire rating.
4. Cost
While metal roofs cost more upfront than traditional asphalt roofs, a metal roof offers quality, durability, and longevity in return for the initial investment.
There is a wide range of costs for metal roofing within the industry, however. If you're considering a new roof, you'll not only need to take into account square footage but also the type of roofing you'll be installing. For example, steel is the most affordable and will last around 50 years.
Similarly, consider standing seam vs stone-coated metal shingles. Both are durable, but standing seam roofs require specialized tools and training to install, making them a more expensive option.
If cost is a concern, it's also worth considering financing. At Erie Home, many of our customers choose to finance this investment, and we offer a wide range of affordable financing options to suit your specific circumstances.
5. Quality
While considering cost, don't forget about quality. Though it can be tempting to work with a contractor that offers the lowest price, make sure that you're getting a quality product and quality workmanship in return.
A metal roof should last decades, so it's not something you want to skimp on. It's therefore worth investing in a quality roof installed by contractors who know what they're doing, such as the professionals at Erie Home, and who will complete the project to your satisfaction.
Be sure to check a contractor's reviews and ratings online. Again, metal roofing systems require a specialized and skilled installation, so you'll want to ensure your installer has the experience needed to do a good job.
Fortunately, Erie Home has an A+ rating with the Better Business Bureau and a score of 4.6 from over 16,500 reviews, making us an ideal choice for anyone looking to replace their roof.
Lastly, you should also consider what warranty the roofing company offers. At Erie Home, we offer a robust, transferable 50-year lifetime warranty that goes beyond the manufacturer's warranty. Contact us today to speak to a sales representative about our guaranteed end-to-end services.
6. Roof Removal
When you replace a roof, you're not only installing a new roof but also removing the old one, so be sure to ask your contractor about roof removal. Specifically, you'll want to know if the company will remove and dispose of the old roof for you.
What will the roofers do with the old material? Most metal roofs can be wholly or partially recycled. You'll also want to know how your contractor will handle the removal to be sure there won't be any damage to your driveway or other parts of your property.
7. Ventilation and Insulation
Maintaining proper ventilation and insulation is critical to the performance, energy efficiency, and longevity of your new metal roof. When the installation is completed correctly, your roof will help regulate your home's temperature, provide moisture control, improve indoor air quality, and help protect your home from the elements.
Ask any questions you may have before you get started to make sure your roof will have the proper ventilation and insulation. Look over the contract carefully to ensure the installer is following the building code for your area and has the proper permits.
Every Erie Home installation is performed by professionally trained local installers and typically takes less than a day. To learn more about how we can help, call us today at 1-800-862-6400 or visit us online for a free quote.
Frequently Asked Questions
What are some signs that you should replace a metal roof?
If you notice leaks, extensive rusting, lost panels, or other signs of damage, consider calling a professional roof inspector to help you decide if you can repair these issues or if your roof needs to be replaced.
Should you replace screws in a metal roof?
Regularly checking your fasteners—screws, clips, and mounts—to ensure they're holding up well can help extend the life of your roof. If you notice stripped screw heads, crumbling or missing clips, corrosion, loose or uneven paneling, or raised fasteners, it may be wise to replace them.
How often do you need to seal a metal roof?
If you choose a standing seam roofing system, the installers will use sealant to create a watertight seal throughout the roof, particularly on the edges and around air vents, vent pipes, and screw heads. It provides a barrier against moisture and air and helps to prevent leaks.
However, on average, sealants last about 10-20 years, so you may need to get the sealant replaced to help maintain the integrity of the roof and avoid leaking.
The good news is that a metal roof from Erie Home doesn't require sealant and your maintenance is minimized as a result.
What is the average lifespan of a metal roof?
The average metal roof will last about 50 years, depending on the type of metal used, the quality of installation, and the local climate. With proper maintenance, some metal roofs can last even longer, making them a durable and long-lasting roofing option.
Remember, a metal roof from Erie Home comes with a transferable, lifetime warranty, so you won't have to worry about replacing your roof for at least another 50 years.
How do you prolong the life of a metal roof?
To extend the life of your roof, it helps to regularly inspect it for any damage that you can easily fix. Look for signs of rust, loose fastenings, or damaged seals. Repairing these problems quickly will prevent further damage to the roof and the home.
Other tips include conducting regular maintenance. Though metal roofs require less maintenance than traditional roofs, they still need to be taken care of. Cleaning your roof of dirt, mildew, and other elements to help avoid corrosion. Keep trees trimmed nearby, and regularly check your gutters for buildup.