You've decided to install a new metal roof. You're excited about the idea of having a long-lasting option that will increase the value of your home while helping to protect the environment.
Erie Home is the ideal choice, offering ultra-durable steel-panel, stamped metal roofing with an expected lifespan up to twice as long as traditional shingle roofing that's backed by a limited lifetime warranty.
While you've already made the wise choice to opt for a metal roof from Erie Home, you still have some decisions to make, such as selecting the type of metal roof you want. There are various types of metal roofing with different materials and styles that can affect the durability and cost of your roof.
In this article:
Read on to find out which may be right for your home.
4 Main Types of Metal Roofing
Depending on your location and environment, some metal materials may work better than others for your roof. Below are the four most common materials used today and the pros and cons of each.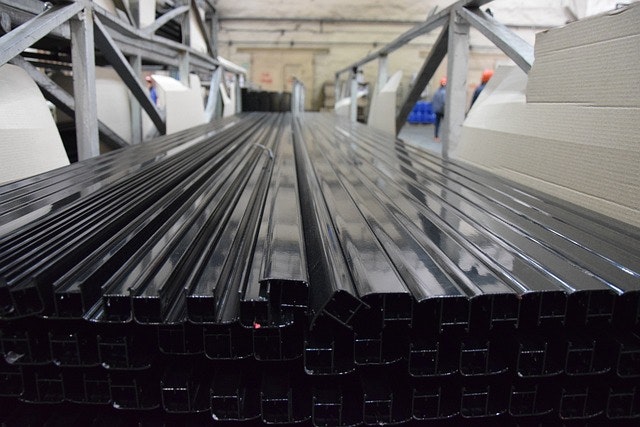 Aluminum
Aluminum is a popular choice for metal roofs because it's lightweight and provides the greatest strength-to-weight ratio. It's corrosion-resistant and easy to work with during installation.
Consumers living in coastal areas often prefer aluminum because the sea salt spray will not cause it to rust. It's also highly reflective, energy efficient, and recyclable.
On the other hand, typical aluminum is more prone to denting. A thicker gauge will help with durability but will increase the cost. It expands and contracts more than steel, so contractors need to install it carefully.
Though it comes in different colors, you'll have fewer options than you will with other materials. The cost ranges widely, with aluminum-coated steel being less expensive than pure aluminum. It doesn't always age well in terms of appearance, so it's usually painted.
Finally, aluminum's price varies depending on the market. It's often somewhere between copper and steel. Homeowners may choose a thinner thickness to save money, but this can affect its ability to withstand severe weather.
Copper
Often considered to be the most beautiful type of metal roof, copper begins with a reddish bronze hue. As it ages, it develops a green patina. It is extremely long-lasting while also being lightweight and easy to install. It can also be recycled and reused if still in good condition.
On the other hand, copper is one of the most expensive metal roof materials, requiring a significant investment. Some homeowners don't like the green patina it develops, so keep that in mind.
Copper can expand and contract with extreme temperatures, so it may require additional maintenance. Finally, there may be "run-off staining" on siding, brick, wood, or concrete around the home.
When it comes to selling your home, we know that the most important thing is the resale value! 🏡💸
That's why the roofing experts at Erie put together a guide to help you decide which metal roof works best for your market!
– Erie Home (@ErieMidWest) July 19, 2018
Zinc
Zinc is another long-lasting metal that can last for 100 years or more. It's considered an environmentally friendly option because the energy required to process it is low. It's also 100 percent recyclable in most cases.
One thing that sets it apart is its ability to "self-heal." A surface patina helps fill in minor scratches over time, protecting the roof from damage. It's also a soft metal that can be easily shaped into different profiles.
On the other hand, the color of this patina can be unpredictable and may not be aesthetically pleasing. It's often a bluish-gray color. It may corrode there over time if it lacks underside coating, making adequate ventilation important.
It expands and contracts with temperature differences more than aluminum, so contractors must accommodate that. Costs may also be higher, though they vary widely depending on the market.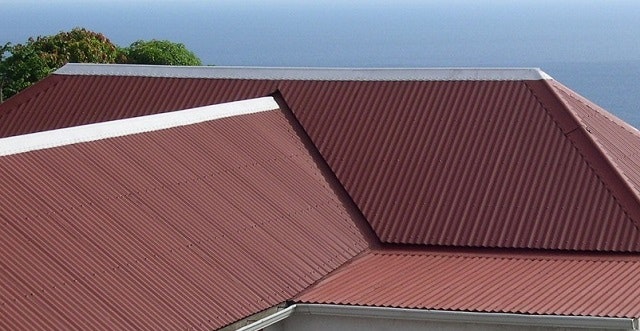 Steel
One of the most popular materials for metal roofs, steel is strong and well-suited for cold climates. It provides some insulation on its own and can be used in combination with other materials to provide consumers with more options. It's also more economical and, once installed, requires minimal maintenance, with an expected lifespan of 50 years.
Highly recyclable, steel is an environmentally friendly option that resists rust, cracking, breakage, mold and dents. It also comes in a wide variety of colors. Many residential consumers choose steel because of the high return on investment for an average installation.
When shopping for steel, you'll generally come across three different types:
Galvanized Steel: This has a zinc coating to help extend durability and protect the steel from corrosion. It comes in three common levels of zinc protection: G40, G60, and G90. The higher the number, the thicker the zinc coating. Galvanized is the most common form of steel roofing material.
Galvalume Steel: This is a combination material made of steel, aluminum, and zinc. Aluminum offers better protection against corrosion, which means this material provides better surface protection. It's also cheaper than galvanized steel but more vulnerable to scratches and dents.
Stainless Steel: This is the sturdiest steel option. It strongly resists corrosion and is designed for extreme weather conditions. It doesn't expand and contract as much in temperature fluctuations, either. The price is higher, than other types of steel, though.
3 Different Types of Metal Roofing Styles
<iframe width="560″ height="315″ src="https://www.youtube.com/embed/8gwbfHdMu5I" title="YouTube video player" frameborder="0″ allow="accelerometer; autoplay; clipboard-write; encrypted-media; gyroscope; picture-in-picture; web-share" allowfullscreen></iframe>
In addition to different materials, metal roofs also come in different types or styles. The three most common are listed below.
1. Stone-Coated Metal Roofing
Stone-coated metal roofing is typically made of steel panels that are then coated in a layer of stone chips or pieces. They look more like traditional roofing shingles or tiles while providing the long life of a metal roof. The stone coating replaces the need for paint coating and provides an energy-efficient and durable option.
The stone-coating option provides a lot of design versatility for your home, as they come in a wide variety of colors and styles. Stone-coated metal roofing from Erie Homes offers the upscale appearance of dimensional shingles, wood shakes, or barrel tiles while also providing the exceptional durability of metal.
Stone-coated metal roofing also eliminates the need for soundproofing, as the stone coating creates a sound-absorbing cushion.
2. Corrugated Metal Roofing
A corrugated metal roof is made up of metal sheets shaped into a corrugated or "wavy" pattern. This corrugated shape not only adds a unique shape to the roof but also strengthens the sheets and increases durability. It also provides some insulation.
Most types of corrugated sheets are made of aluminum, but some manufacturers also use steel and copper.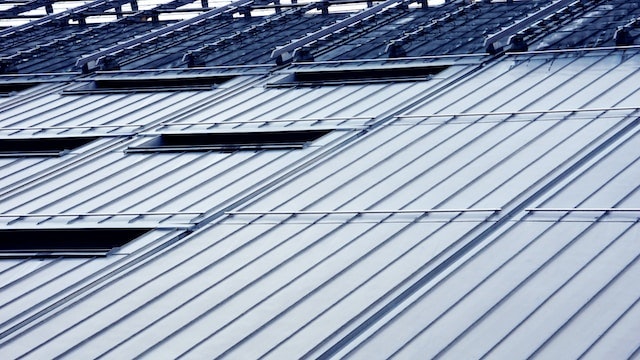 3. Standing Seam Metal Roofing
A standing seam metal roof is made of flat and vertical sheets that interlock, the metal seams acting as a protective layer for the anchors. This interlocking action creates a sleek appearance and is highly customizable in different colors. It also conceals the fastener panels and reduces the need for maintenance.
Standing seam roofs withstand harsh weather conditions and typically last longer than other types. They are a premium choice and tend to cost more. The most common materials used are galvalume steel, aluminum, and galvanized steel.
Regardless of your final decision, you can rest assured that, at Erie Home, every roof is professionally installed and backed by our limited lifetime warranty. Not sure which type and style to go for? Call 1-800-862-6400 today and arrange a for free inspection and consultation at your convenience.
Frequently Asked Questions
What is the difference between 26- and 29-gauge metal roofing?
The higher the gauge number, the thinner the metal. For example, 24 gauge is heavier and thicker than 26 gauge, while 26 gauge is heavier and thicker than 29 gauge. The most common gauges are 24 and 26. Thicker gauges are typically stronger and more durable but can also be heavier and more expensive.
What type of metal roof lasts the longest?
Copper is typically the longest-lasting metal roofing material, lasting up to 100 years or longer. Steel metal roofs professionally installed by Erie Home last up to twice as long as traditional shingles, up to 50 years.
What is the most durable type of metal roof panel?
A corrugated shape provides more durability to the metal and can extend its ability to withstand the elements.
What are the different styles of a metal roof?
Metal roofs come in various styles, including:
Stone-coated shingle, tile and shake metal roofing
Corrugated metal roofing
Standing seam metal roofing
Are metal roofs noisy when it's raining?
Some metal roofs can be noisy when it's raining, such as standing-seam barn-style metal roofs. Metal roofs from Erie Home comprise stone-coated steel shingles that are as quiet as traditional asphalt shingles.