Investing in a new metal roof for your St. Louis home is one of the best decisions you can make, but it is vital to have all the information available about the roofing materials to choose the metal roof that is best for you. When you have the information at your fingertips that allows you to evaluate all of the pros and cons, it is easier to make a choice that you will be happy with for many years. One of the top questions that homeowners have when they start looking at metal roofs is whether standing seam metal roofs or stamped metal shingle roofs are better. The best way to decide which is best for you is to be educated about each detail before making a decision.
The Advantages of StONE COATED Metal Shingle Roofing
These small, modular panels are popular because they are pressed to create a look that simulates slate, tile, shake, and other shingle styles. Consider the benefits these shingles offer.
Energy efficiency. These metal shingles are typically coated with a highly reflective paint reflecting the sun's rays and dispels radiant heat. This helps your home stay cool without putting too much pressure on your cooling system and lower your utility costs.
By their very nature, metal roofs have a longer lifespan than asphalt shingles and many other roofing materials. A benefit of most stamped metal shingle roofs is that they feature concealed fasteners protected from exposure to the damaging effects of the elements.
One of the benefits of metal shingle installation is that its low-profile design allows for easy handling, making clean flashing details easy for contractors to achieve.
Re-roofing. Many homeowners choose to install their new metal roof over an old asphalt roof to save on construction costs and prevent the old shingles from going to the landfill. Stamped metal shingle design is perfect for re-roofing because their deep grooves keep the shingles raised above the old roof, creating an airspace that gives the new roof a more even appearance.
The vast array of colors, styles, and designs that stamped metal shingles offer give homeowners a great deal of flexibility in choosing a style that matches their home's architectural design. This also offers homeowners who must adhere to HOA restrictions metal roofing options that fit their requirements. For others who don't like to deviate from tradition, this makes the decision to install a metal roof easier because metal shingles are available in a look that resembles the asphalt shingles on most homes in the U.S.
Benefits of Standing Seam Metal Roofs
Many homeowners in Missouri prefer the look and features of standing seam metal roofs, which have raised vertical seams, or legs and a flat area in between. This metal roof style is popular on commercial and industrial buildings, but many homeowners find that it works perfectly in residential applications as well.
Energy savings. Just like stamped shingle metal roofs, standing seam options are also energy efficient and lower cooling costs.
Architectural versatility. Standing seam metal roofs are ideal for homes with complex, sophisticated designs. The sleek, straight lines offer a clean, modern look that complements many different architectural designs. They are also available in various colors, allowing homeowners to select the perfect look for their house.
There are two types of standing seam metal roofs, which allow for versatility when it comes to the pitch of your home's roof. Mechanically seamed double lock systems are great for low-slope roofs, while snap-lock systems are better suited to pitches of 3/12 and above.
One advantage of note that standing seam metal roofs offer over stamped shingle varieties is the metal thickness. Stamped shingles are more vulnerable to damage from branches and other objects hitting the roof, and standing seam metal roofs are available in thicknesses between 22 and 26 gauge, making them a sturdier choice.
Industry-standard testing. For homes in high wind and hurricane-prone environments, standing seam metal roofs are a great choice because they are tested to meet industry standards for wind uplift. Other testing measures are also taken for impact and fire resistance, water submersion, water penetration, and air leakage.
Cons of Standing Seam Metal Roofing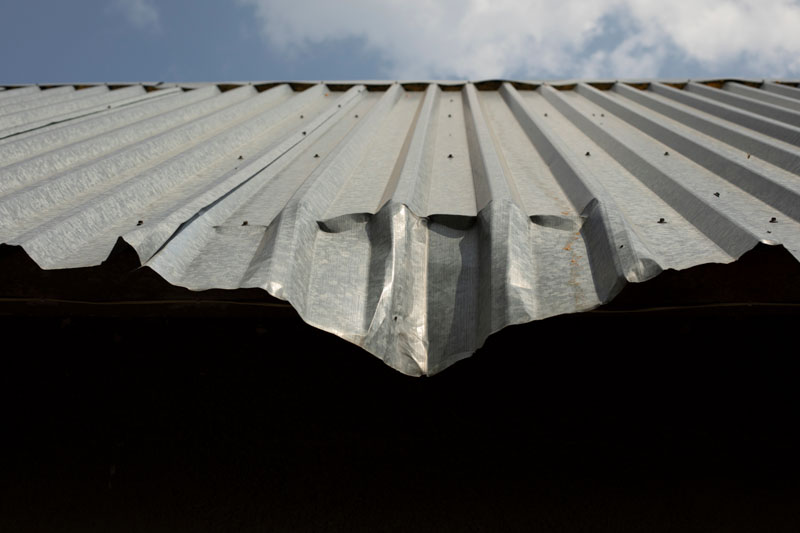 Oil canning. This characteristic of some standing seam metal roofs creates a wavy appearance that some find unappealing. Although it is only aesthetic and doesn't affect the roof's performance or longevity, it is a factor to consider.
Homeowner association restrictions. Many HOAs do not allow standing seam metal roofs because they feel that they are inconsistent with the "style" of the neighborhood or look too industrial. Some also cite high glare as a reason for not allowing these roofs.
Complex installation. It is sometimes difficult to find a qualified contractor to install a standing seam metal roof because it is a labor-intensive process that requires experience and skill to ensure proper installation.
Although standing seam metal roofs are typically less expensive than stamped metal shingles, they are still more expensive than many other roofing materials. Many homeowners, however, find that the longevity of the product makes the expense worthwhile.
When you begin choosing your metal roofing products with a basic understanding of the materials available, it is easier to choose the best product for your St. Louis home. A trustworthy metal roofing contractor will discuss your options with you and help you make the wisest decision.